5 issues to know for Could 2: Barr, UNC capturing, Venezuela, school rip-off, measles – CNN');$vidEndSlate.removeClass('video__end-slate–inactive').addClass('video__end-slate–active');}};CNN.autoPlayVideoExist = (CNN.autoPlayVideoExist === true) ? true : false;var configObj = ,autoStartVideo = false,isVideoReplayClicked = false,callbackObj,containerEl,currentVideoCollection = [],currentVideoCollectionId = ",isLivePlayer = false,mediaMetadataCallbacks,mobilePinnedView = null,moveToNextTimeout,mutePlayerEnabled = false,nextVideoId = ",nextVideoUrl = ",turnOnFlashMessaging = false,videoPinner,videoEndSlateImpl;if (CNN.autoPlayVideoExist === false) autoStartVideo = true;if (autoStartVideo === true) if (turnOnFlashMessaging === true) else configObj.autostart = CNN.Options.enableAutoplayBlock ? false : autoStartVideo;CNN.VideoPlayer.setPlayerProperties(configObj.markupId, autoStartVideo, isLivePlayer, isVideoReplayClicked, mutePlayerEnabled);CNN.VideoPlayer.setFirstVideoInCollection(currentVideoCollection, configObj.markupId);videoEndSlateImpl = new CNN.VideoEndSlate('large-media_0');operate findNextVideo(currentVideoId) var i,vidObj;if (currentVideoId && jQuery.isArray(currentVideoCollection) && currentVideoCollection.size > zero) callbackObj = {onPlayerReady: operate (containerId) {var playerInstance,containerClassId = '#' + containerId;CNN.VideoPlayer.handleInitialExpandableVideoState(containerId);CNN.VideoPlayer.handleAdOnCVPVisibilityChange(containerId, CNN.pageVis.isDocumentVisible());if (CNN.Options.enableMobileWebFloatingPlayer &&Modernizr &&(Modernizr.cellphone || Modernizr.cell || Modernizr.pill) &&CNN.VideoPlayer.getLibraryName(containerId) === 'fave' &&jQuery(containerClassId).mother and father('.js-pg-rail-tall__head').size > zero &&CNN.contentModel.pageType === 'article') ;CNN.Videx.cell.pinnedPlayer = mobilePinnedView;if (Modernizr && !Modernizr.cellphone && !Modernizr.cell && !Modernizr.pill) },onContentEntryLoad: operate(containerId, playerId, contentid, isQueue) ,onContentPause: operate (containerId, playerId, videoId, paused) ,onContentMetadata: operate (containerId, playerId, metadata, contentId, length, width, peak) var endSlateLen = jQuery(doc.getElementById(containerId)).mum or dad().discover('.js-video__end-slate').eq(zero).size;CNN.VideoSourceUtils.updateSource(containerId, metadata);if (endSlateLen > zero) videoEndSlateImpl.fetchAndShowRecommendedVideos(metadata);,onAdPlay: operate (containerId, cvpId, token, mode, id, length, blockId, adType) ,onAdPause: operate (containerId, playerId, token, mode, id, length, blockId, adType, occasion, isAdPause) if (mobilePinnedView) CNN.VideoPlayer.handleMobilePinnedPlayerStates(containerId, isAdPause);,onTrackingFullscreen: operate (containerId, PlayerId, dataObj) CNN.VideoPlayer.handleFullscreenChange(containerId, dataObj);if (mobilePinnedView &&typeof dataObj === 'object' &&FAVE.Utils.os === 'iOS' && !dataObj.fullscreen) jQuery(doc).scrollTop(mobilePinnedView.getScrollPosition());playerInstance.hideUI();,onContentPlay: operate (containerId, cvpId, occasion) ,onContentReplayRequest: operate (containerId, cvpId, contentId) ,onContentBegin: operate (containerId, cvpId, contentId) if (mobilePinnedView) /* Dismissing the pinnedPlayer if one other video gamers performs a video. */CNN.VideoPlayer.dismissMobilePinnedPlayer(containerId);CNN.VideoPlayer.mutePlayer(containerId);if (CNN.companion && typeof CNN.companion.updateCompanionLayout === 'operate') CNN.companion.updateCompanionLayout('removeEpicAds');CNN.VideoPlayer.hideSpinner(containerId);clearTimeout(moveToNextTimeout);CNN.VideoSourceUtils.clearSource(containerId);jQuery(doc).triggerVideoContentStarted();,onContentComplete: operate (containerId, cvpId, contentId) if (CNN.companion && typeof CNN.companion.updateCompanionLayout === 'operate') navigateToNextVideo(contentId, containerId);,onContentEnd: operate (containerId, cvpId, contentId) ,onCVPVisibilityChange: operate (containerId, cvpId, seen) };if (typeof configObj.context !== 'string' || configObj.context.size zero) CNN.autoPlayVideoExist = (CNN.autoPlayVideoExist === true) ? true : false;CNN.VideoPlayer.getLibrary(configObj, callbackObj, isLivePlayer);});CNN.INJECTOR.scriptComplete('videodemanddust');Here is what else you could know to Get As much as Velocity and Out the Door. (You can even get "5 Issues You Have to Know In the present day" delivered to your inbox day by day. Join right here.)
1. William Barr
There will not be a repeat of the William Barr Present at present within the Home. The lawyer normal will not testify earlier than the Home Judiciary Committee as a result of he would not need to be questioned by its workers attorneys. His look yesterday earlier than the Senate Judiciary Committee supplied sufficient drama anyway. Barr was defiant in that setting as he defended his dealing with of particular counsel Robert Mueller's report. And he downplayed Mueller's letter that raised issues about Barr's four-page abstract of the report.The entire thing ticked off Democrats — each on the committee and on the 2020 marketing campaign path — who accused Barr of deceptive Congress. Just about all of the Dems need him to resign. Additionally they accuse Barr of working extra like President Trump's private lawyer than the nation's prime legislation enforcement officer. CNN's Stephen Collinson says with an lawyer normal like Barr, Trump can simply steamroll Congress. Listed here are 9 different takeaways from the listening to.');$vidEndSlate.removeClass('video__end-slate–inactive').addClass('video__end-slate–active');}};CNN.autoPlayVideoExist = (CNN.autoPlayVideoExist === true) ? true : false;var configObj = ,autoStartVideo = false,isVideoReplayClicked = false,callbackObj,containerEl,currentVideoCollection = [],currentVideoCollectionId = ",isLivePlayer = false,mediaMetadataCallbacks,mobilePinnedView = null,moveToNextTimeout,mutePlayerEnabled = false,nextVideoId = ",nextVideoUrl = ",turnOnFlashMessaging = false,videoPinner,videoEndSlateImpl;if (CNN.autoPlayVideoExist === false) autoStartVideo = false;if (autoStartVideo === true) if (turnOnFlashMessaging === true) else configObj.autostart = CNN.Options.enableAutoplayBlock ? false : autoStartVideo;CNN.VideoPlayer.setPlayerProperties(configObj.markupId, autoStartVideo, isLivePlayer, isVideoReplayClicked, mutePlayerEnabled);CNN.VideoPlayer.setFirstVideoInCollection(currentVideoCollection, configObj.markupId);videoEndSlateImpl = new CNN.VideoEndSlate('body-text_9');operate findNextVideo(currentVideoId) var i,vidObj;if (currentVideoId && jQuery.isArray(currentVideoCollection) && currentVideoCollection.size > zero) callbackObj = {onPlayerReady: operate (containerId) {var playerInstance,containerClassId = '#' + containerId;CNN.VideoPlayer.handleInitialExpandableVideoState(containerId);CNN.VideoPlayer.handleAdOnCVPVisibilityChange(containerId, CNN.pageVis.isDocumentVisible());if (CNN.Options.enableMobileWebFloatingPlayer &&Modernizr &&(Modernizr.cellphone || Modernizr.cell || Modernizr.pill) &&CNN.VideoPlayer.getLibraryName(containerId) === 'fave' &&jQuery(containerClassId).mother and father('.js-pg-rail-tall__head').size > zero &&CNN.contentModel.pageType === 'article') ;CNN.Videx.cell.pinnedPlayer = mobilePinnedView;if (Modernizr && !Modernizr.cellphone && !Modernizr.cell && !Modernizr.pill) },onContentEntryLoad: operate(containerId, playerId, contentid, isQueue) ,onContentPause: operate (containerId, playerId, videoId, paused) ,onContentMetadata: operate (containerId, playerId, metadata, contentId, length, width, peak) var endSlateLen = jQuery(doc.getElementById(containerId)).mum or dad().discover('.js-video__end-slate').eq(zero).size;CNN.VideoSourceUtils.updateSource(containerId, metadata);if (endSlateLen > zero) videoEndSlateImpl.fetchAndShowRecommendedVideos(metadata);,onAdPlay: operate (containerId, cvpId, token, mode, id, length, blockId, adType) ,onAdPause: operate (containerId, playerId, token, mode, id, length, blockId, adType, occasion, isAdPause) if (mobilePinnedView) CNN.VideoPlayer.handleMobilePinnedPlayerStates(containerId, isAdPause);,onTrackingFullscreen: operate (containerId, PlayerId, dataObj) CNN.VideoPlayer.handleFullscreenChange(containerId, dataObj);if (mobilePinnedView &&typeof dataObj === 'object' &&FAVE.Utils.os === 'iOS' && !dataObj.fullscreen) jQuery(doc).scrollTop(mobilePinnedView.getScrollPosition());playerInstance.hideUI();,onContentPlay: operate (containerId, cvpId, occasion) ,onContentReplayRequest: operate (containerId, cvpId, contentId) ,onContentBegin: operate (containerId, cvpId, contentId) if (mobilePinnedView) /* Dismissing the pinnedPlayer if one other video gamers performs a video. */CNN.VideoPlayer.dismissMobilePinnedPlayer(containerId);CNN.VideoPlayer.mutePlayer(containerId);if (CNN.companion && typeof CNN.companion.updateCompanionLayout === 'operate') CNN.companion.updateCompanionLayout('removeEpicAds');CNN.VideoPlayer.hideSpinner(containerId);clearTimeout(moveToNextTimeout);CNN.VideoSourceUtils.clearSource(containerId);jQuery(doc).triggerVideoContentStarted();,onContentComplete: operate (containerId, cvpId, contentId) if (CNN.companion && typeof CNN.companion.updateCompanionLayout === 'operate') navigateToNextVideo(contentId, containerId);,onContentEnd: operate (containerId, cvpId, contentId) ,onCVPVisibilityChange: operate (containerId, cvpId, seen) };if (typeof configObj.context !== 'string' || configObj.context.size zero) CNN.autoPlayVideoExist = (CNN.autoPlayVideoExist === true) ? true : false;CNN.VideoPlayer.getLibrary(configObj, callbackObj, isLivePlayer);});CNN.INJECTOR.scriptComplete('videodemanddust');
2. North Carolina faculty capturing
The capturing on the College of North Carolina at Charlotte might need been even worse, if not for one courageous scholar. Police, faculty officers and kinfolk say Riley Howell rushed towards the shooter after he entered a classroom on the final day of courses and began firing. Howell, 21, was fatally shot at point-blank vary as he ran on the gunman and knocked him off his toes. Charlotte's police chief stated Howell's actions helped police arrest the suspect. He additionally known as Howell a hero. "He needed to give his life … however he saved lives doing so," the chief stated. The opposite scholar killed within the capturing was 19-year-old Reed Parlier. A memorial service for the victims was held on campus.');$vidEndSlate.removeClass('video__end-slate–inactive').addClass('video__end-slate–active');}};CNN.autoPlayVideoExist = (CNN.autoPlayVideoExist === true) ? true : false;var configObj = ,autoStartVideo = false,isVideoReplayClicked = false,callbackObj,containerEl,currentVideoCollection = [],currentVideoCollectionId = ",isLivePlayer = false,mediaMetadataCallbacks,mobilePinnedView = null,moveToNextTimeout,mutePlayerEnabled = false,nextVideoId = ",nextVideoUrl = ",turnOnFlashMessaging = false,videoPinner,videoEndSlateImpl;if (CNN.autoPlayVideoExist === false) autoStartVideo = false;if (autoStartVideo === true) if (turnOnFlashMessaging === true) else configObj.autostart = CNN.Options.enableAutoplayBlock ? false : autoStartVideo;CNN.VideoPlayer.setPlayerProperties(configObj.markupId, autoStartVideo, isLivePlayer, isVideoReplayClicked, mutePlayerEnabled);CNN.VideoPlayer.setFirstVideoInCollection(currentVideoCollection, configObj.markupId);videoEndSlateImpl = new CNN.VideoEndSlate('body-text_14');operate findNextVideo(currentVideoId) var i,vidObj;if (currentVideoId && jQuery.isArray(currentVideoCollection) && currentVideoCollection.size > zero) callbackObj = {onPlayerReady: operate (containerId) {var playerInstance,containerClassId = '#' + containerId;CNN.VideoPlayer.handleInitialExpandableVideoState(containerId);CNN.VideoPlayer.handleAdOnCVPVisibilityChange(containerId, CNN.pageVis.isDocumentVisible());if (CNN.Options.enableMobileWebFloatingPlayer &&Modernizr &&(Modernizr.cellphone || Modernizr.cell || Modernizr.pill) &&CNN.VideoPlayer.getLibraryName(containerId) === 'fave' &&jQuery(containerClassId).mother and father('.js-pg-rail-tall__head').size > zero &&CNN.contentModel.pageType === 'article') ;CNN.Videx.cell.pinnedPlayer = mobilePinnedView;if (Modernizr && !Modernizr.cellphone && !Modernizr.cell && !Modernizr.pill) },onContentEntryLoad: operate(containerId, playerId, contentid, isQueue) ,onContentPause: operate (containerId, playerId, videoId, paused) ,onContentMetadata: operate (containerId, playerId, metadata, contentId, length, width, peak) var endSlateLen = jQuery(doc.getElementById(containerId)).mum or dad().discover('.js-video__end-slate').eq(zero).size;CNN.VideoSourceUtils.updateSource(containerId, metadata);if (endSlateLen > zero) videoEndSlateImpl.fetchAndShowRecommendedVideos(metadata);,onAdPlay: operate (containerId, cvpId, token, mode, id, length, blockId, adType) ,onAdPause: operate (containerId, playerId, token, mode, id, length, blockId, adType, occasion, isAdPause) if (mobilePinnedView) CNN.VideoPlayer.handleMobilePinnedPlayerStates(containerId, isAdPause);,onTrackingFullscreen: operate (containerId, PlayerId, dataObj) CNN.VideoPlayer.handleFullscreenChange(containerId, dataObj);if (mobilePinnedView &&typeof dataObj === 'object' &&FAVE.Utils.os === 'iOS' && !dataObj.fullscreen) jQuery(doc).scrollTop(mobilePinnedView.getScrollPosition());playerInstance.hideUI();,onContentPlay: operate (containerId, cvpId, occasion) ,onContentReplayRequest: operate (containerId, cvpId, contentId) ,onContentBegin: operate (containerId, cvpId, contentId) if (mobilePinnedView) /* Dismissing the pinnedPlayer if one other video gamers performs a video. */CNN.VideoPlayer.dismissMobilePinnedPlayer(containerId);CNN.VideoPlayer.mutePlayer(containerId);if (CNN.companion && typeof CNN.companion.updateCompanionLayout === 'operate') CNN.companion.updateCompanionLayout('removeEpicAds');CNN.VideoPlayer.hideSpinner(containerId);clearTimeout(moveToNextTimeout);CNN.VideoSourceUtils.clearSource(containerId);jQuery(doc).triggerVideoContentStarted();,onContentComplete: operate (containerId, cvpId, contentId) if (CNN.companion && typeof CNN.companion.updateCompanionLayout === 'operate') navigateToNextVideo(contentId, containerId);,onContentEnd: operate (containerId, cvpId, contentId) ,onCVPVisibilityChange: operate (containerId, cvpId, seen) };if (typeof configObj.context !== 'string' || configObj.context.size zero) CNN.autoPlayVideoExist = (CNN.autoPlayVideoExist === true) ? true : false;CNN.VideoPlayer.getLibrary(configObj, callbackObj, isLivePlayer);});CNN.INJECTOR.scriptComplete('videodemanddust');
three. Venezuela
What occurs subsequent in Venezuela after days of unrest? It is not likely clear. Opposition chief Juan Guaido, who can also be president of the nation's Nationwide Meeting, had tried earlier this week to oust embattled President Nicolas Maduro from energy. However now, Guaido, whom a number of nations — together with the US — acknowledge because the nation's interim president, admits he would not have sufficient help from Venezuela's navy to make that occur. In response to all this, Maduro known as for 2 "days of motion" this weekend, asking elected officers to unite for the nation's good. In the meantime, US Secretary of State Mike Pompeo reiterated that US navy motion in Venezuela is feasible "if that is what's required."');$vidEndSlate.removeClass('video__end-slate–inactive').addClass('video__end-slate–active');}};CNN.autoPlayVideoExist = (CNN.autoPlayVideoExist === true) ? true : false;var configObj = ,autoStartVideo = false,isVideoReplayClicked = false,callbackObj,containerEl,currentVideoCollection = [],currentVideoCollectionId = ",isLivePlayer = false,mediaMetadataCallbacks,mobilePinnedView = null,moveToNextTimeout,mutePlayerEnabled = false,nextVideoId = ",nextVideoUrl = ",turnOnFlashMessaging = false,videoPinner,videoEndSlateImpl;if (CNN.autoPlayVideoExist === false) autoStartVideo = false;if (autoStartVideo === true) if (turnOnFlashMessaging === true) else configObj.autostart = CNN.Options.enableAutoplayBlock ? false : autoStartVideo;CNN.VideoPlayer.setPlayerProperties(configObj.markupId, autoStartVideo, isLivePlayer, isVideoReplayClicked, mutePlayerEnabled);CNN.VideoPlayer.setFirstVideoInCollection(currentVideoCollection, configObj.markupId);videoEndSlateImpl = new CNN.VideoEndSlate('body-text_18');operate findNextVideo(currentVideoId) var i,vidObj;if (currentVideoId && jQuery.isArray(currentVideoCollection) && currentVideoCollection.size > zero) callbackObj = {onPlayerReady: operate (containerId) {var playerInstance,containerClassId = '#' + containerId;CNN.VideoPlayer.handleInitialExpandableVideoState(containerId);CNN.VideoPlayer.handleAdOnCVPVisibilityChange(containerId, CNN.pageVis.isDocumentVisible());if (CNN.Options.enableMobileWebFloatingPlayer &&Modernizr &&(Modernizr.cellphone || Modernizr.cell || Modernizr.pill) &&CNN.VideoPlayer.getLibraryName(containerId) === 'fave' &&jQuery(containerClassId).mother and father('.js-pg-rail-tall__head').size > zero &&CNN.contentModel.pageType === 'article') ;CNN.Videx.cell.pinnedPlayer = mobilePinnedView;if (Modernizr && !Modernizr.cellphone && !Modernizr.cell && !Modernizr.pill) },onContentEntryLoad: operate(containerId, playerId, contentid, isQueue) ,onContentPause: operate (containerId, playerId, videoId, paused) ,onContentMetadata: operate (containerId, playerId, metadata, contentId, length, width, peak) var endSlateLen = jQuery(doc.getElementById(containerId)).mum or dad().discover('.js-video__end-slate').eq(zero).size;CNN.VideoSourceUtils.updateSource(containerId, metadata);if (endSlateLen > zero) videoEndSlateImpl.fetchAndShowRecommendedVideos(metadata);,onAdPlay: operate (containerId, cvpId, token, mode, id, length, blockId, adType) ,onAdPause: operate (containerId, playerId, token, mode, id, length, blockId, adType, occasion, isAdPause) if (mobilePinnedView) CNN.VideoPlayer.handleMobilePinnedPlayerStates(containerId, isAdPause);,onTrackingFullscreen: operate (containerId, PlayerId, dataObj) CNN.VideoPlayer.handleFullscreenChange(containerId, dataObj);if (mobilePinnedView &&typeof dataObj === 'object' &&FAVE.Utils.os === 'iOS' && !dataObj.fullscreen) jQuery(doc).scrollTop(mobilePinnedView.getScrollPosition());playerInstance.hideUI();,onContentPlay: operate (containerId, cvpId, occasion) ,onContentReplayRequest: operate (containerId, cvpId, contentId) ,onContentBegin: operate (containerId, cvpId, contentId) if (mobilePinnedView) /* Dismissing the pinnedPlayer if one other video gamers performs a video. */CNN.VideoPlayer.dismissMobilePinnedPlayer(containerId);CNN.VideoPlayer.mutePlayer(containerId);if (CNN.companion && typeof CNN.companion.updateCompanionLayout === 'operate') CNN.companion.updateCompanionLayout('removeEpicAds');CNN.VideoPlayer.hideSpinner(containerId);clearTimeout(moveToNextTimeout);CNN.VideoSourceUtils.clearSource(containerId);jQuery(doc).triggerVideoContentStarted();,onContentComplete: operate (containerId, cvpId, contentId) if (CNN.companion && typeof CNN.companion.updateCompanionLayout === 'operate') navigateToNextVideo(contentId, containerId);,onContentEnd: operate (containerId, cvpId, contentId) ,onCVPVisibilityChange: operate (containerId, cvpId, seen) };if (typeof configObj.context !== 'string' || configObj.context.size zero) CNN.autoPlayVideoExist = (CNN.autoPlayVideoExist === true) ? true : false;CNN.VideoPlayer.getLibrary(configObj, callbackObj, isLivePlayer);});CNN.INJECTOR.scriptComplete('videodemanddust');
four. Faculty admissions scandal
There could also be a special approach within the school admissions scandal. The household of a Chinese language scholar who bought into Stanford paid $6.5 million to Rick Singer, a supply advised CNN. Singer, in case you've got forgotten, is the admitted mastermind of the admissions scheme, and he is accused of working with dozens of rich mother and father to unfairly admit their youngsters to prime faculties. A Morgan Stanley adviser referred the mother and father of the Chinese language scholar to Singer. The adviser was later fired for not cooperating in an inside investigation into the scandal. It isn't clear if the mother and father had been looking for a bonus to get their daughter into Stanford once they paid Singer. The coed, her mother and father and the previous Morgan Stanley adviser haven't been charged at this level.');$vidEndSlate.removeClass('video__end-slate–inactive').addClass('video__end-slate–active');}};CNN.autoPlayVideoExist = (CNN.autoPlayVideoExist === true) ? true : false;var configObj = thumb: 'none',video: 'us/2019/03/13/college-cheating-scandal-felicity-huffman-lori-laughlin-kaye-pkg-vpx.cnn',width: '100%',peak: '100%',part: 'home',profile: 'growth',community: 'cnn',markupId: 'body-text_22',theoplayer: allowNativeFullscreen: true,adsection: 'cnn.com_us_5thingstoknow_inpage',frameWidth: '100%',frameHeight: '100%',posterImageOverride: "mini":"width":220,"sort":"jpg","uri":"//cdn.cnn.com/cnnnext/dam/property/190312202937-loughlin-singer-huffman-split-small-169.jpg","peak":124,"xsmall":"width":300,"sort":"jpg","uri":"//cdn.cnn.com/cnnnext/dam/property/190312202937-loughlin-singer-huffman-split-medium-plus-169.jpg","peak":173,"small":,"medium":"width":780,"sort":"jpg","uri":"//cdn.cnn.com/cnnnext/dam/property/190312202937-loughlin-singer-huffman-split-exlarge-169.jpg","peak":438,"giant":"width":1100,"sort":"jpg","uri":"//cdn.cnn.com/cnnnext/dam/property/190312202937-loughlin-singer-huffman-split-super-169.jpg","peak":619,"full16x9″:,"mini1x1″:"width":100,"sort":"jpg","uri":"//cdn.cnn.com/cnnnext/dam/property/190312202937-loughlin-singer-huffman-split-small-11.jpg","peak":100,autoStartVideo = false,isVideoReplayClicked = false,callbackObj,containerEl,currentVideoCollection = [],currentVideoCollectionId = ",isLivePlayer = false,mediaMetadataCallbacks,mobilePinnedView = null,moveToNextTimeout,mutePlayerEnabled = false,nextVideoId = ",nextVideoUrl = ",turnOnFlashMessaging = false,videoPinner,videoEndSlateImpl;if (CNN.autoPlayVideoExist === false) autoStartVideo = false;if (autoStartVideo === true) if (turnOnFlashMessaging === true) else configObj.autostart = CNN.Options.enableAutoplayBlock ? false : autoStartVideo;CNN.VideoPlayer.setPlayerProperties(configObj.markupId, autoStartVideo, isLivePlayer, isVideoReplayClicked, mutePlayerEnabled);CNN.VideoPlayer.setFirstVideoInCollection(currentVideoCollection, configObj.markupId);videoEndSlateImpl = new CNN.VideoEndSlate('body-text_22');operate findNextVideo(currentVideoId) var i,vidObj;if (currentVideoId && jQuery.isArray(currentVideoCollection) && currentVideoCollection.size > zero) callbackObj = {onPlayerReady: operate (containerId) {var playerInstance,containerClassId = '#' + containerId;CNN.VideoPlayer.handleInitialExpandableVideoState(containerId);CNN.VideoPlayer.handleAdOnCVPVisibilityChange(containerId, CNN.pageVis.isDocumentVisible());if (CNN.Options.enableMobileWebFloatingPlayer &&Modernizr &&(Modernizr.cellphone || Modernizr.cell || Modernizr.pill) &&CNN.VideoPlayer.getLibraryName(containerId) === 'fave' &&jQuery(containerClassId).mother and father('.js-pg-rail-tall__head').size > zero &&CNN.contentModel.pageType === 'article') ;CNN.Videx.cell.pinnedPlayer = mobilePinnedView;if (Modernizr && !Modernizr.cellphone && !Modernizr.cell && !Modernizr.pill) },onContentEntryLoad: operate(containerId, playerId, contentid, isQueue) ,onContentPause: operate (containerId, playerId, videoId, paused) ,onContentMetadata: operate (containerId, playerId, metadata, contentId, length, width, peak) var endSlateLen = jQuery(doc.getElementById(containerId)).mum or dad().discover('.js-video__end-slate').eq(zero).size;CNN.VideoSourceUtils.updateSource(containerId, metadata);if (endSlateLen > zero) videoEndSlateImpl.fetchAndShowRecommendedVideos(metadata);,onAdPlay: operate (containerId, cvpId, token, mode, id, length, blockId, adType) ,onAdPause: operate (containerId, playerId, token, mode, id, length, blockId, adType, occasion, isAdPause) if (mobilePinnedView) CNN.VideoPlayer.handleMobilePinnedPlayerStates(containerId, isAdPause);,onTrackingFullscreen: operate (containerId, PlayerId, dataObj) CNN.VideoPlayer.handleFullscreenChange(containerId, dataObj);if (mobilePinnedView &&typeof dataObj === 'object' &&FAVE.Utils.os === 'iOS' && !dataObj.fullscreen) jQuery(doc).scrollTop(mobilePinnedView.getScrollPosition());playerInstance.hideUI();,onContentPlay: operate (containerId, cvpId, occasion) ,onContentReplayRequest: operate (containerId, cvpId, contentId) ,onContentBegin: operate (containerId, cvpId, contentId) if (mobilePinnedView) /* Dismissing the pinnedPlayer if one other video gamers performs a video. */CNN.VideoPlayer.dismissMobilePinnedPlayer(containerId);CNN.VideoPlayer.mutePlayer(containerId);if (CNN.companion && typeof CNN.companion.updateCompanionLayout === 'operate') CNN.companion.updateCompanionLayout('removeEpicAds');CNN.VideoPlayer.hideSpinner(containerId);clearTimeout(moveToNextTimeout);CNN.VideoSourceUtils.clearSource(containerId);jQuery(doc).triggerVideoContentStarted();,onContentComplete: operate (containerId, cvpId, contentId) if (CNN.companion && typeof CNN.companion.updateCompanionLayout === 'operate') navigateToNextVideo(contentId, containerId);,onContentEnd: operate (containerId, cvpId, contentId) ,onCVPVisibilityChange: operate (containerId, cvpId, seen) };if (typeof configObj.context !== 'string' || configObj.context.size zero) CNN.autoPlayVideoExist = (CNN.autoPlayVideoExist === true) ? true : false;CNN.VideoPlayer.getLibrary(configObj, callbackObj, isLivePlayer);});CNN.INJECTOR.scriptComplete('videodemanddust');
5. Measles
Film followers who noticed the brand new "Avengers" flick at a California theater could have gotten extra than simply the conclusion of a blockbuster movie franchise: They might have additionally been uncovered to measles. Well being officers say a girl who went final Thursday to a midnight screening of "Avengers: Endgame" at an AMC theater in Fullerton had lately traveled to a rustic with widespread measles exercise. She was thought of infectious between April 23 and yesterday. Everybody within the constructing when she was there might have been uncovered.In the meantime, St. Lucia has quarantined a whole cruise ship reportedly owned by the Church of Scientology as a result of somebody on board might need measles. The ship has been ordered to remain in port, and nobody is allowed to get off. Measles circumstances within the US have surpassed the best quantity on report for the reason that illness was declared eradicated in 2000, with most circumstances in communities with low vaccination charges.');$vidEndSlate.removeClass('video__end-slate–inactive').addClass('video__end-slate–active');}};CNN.autoPlayVideoExist = (CNN.autoPlayVideoExist === true) ? true : false;var configObj = ,autoStartVideo = false,isVideoReplayClicked = false,callbackObj,containerEl,currentVideoCollection = [],currentVideoCollectionId = ",isLivePlayer = false,mediaMetadataCallbacks,mobilePinnedView = null,moveToNextTimeout,mutePlayerEnabled = false,nextVideoId = ",nextVideoUrl = ",turnOnFlashMessaging = false,videoPinner,videoEndSlateImpl;if (CNN.autoPlayVideoExist === false) autoStartVideo = false;if (autoStartVideo === true) if (turnOnFlashMessaging === true) else configObj.autostart = CNN.Options.enableAutoplayBlock ? false : autoStartVideo;CNN.VideoPlayer.setPlayerProperties(configObj.markupId, autoStartVideo, isLivePlayer, isVideoReplayClicked, mutePlayerEnabled);CNN.VideoPlayer.setFirstVideoInCollection(currentVideoCollection, configObj.markupId);videoEndSlateImpl = new CNN.VideoEndSlate('body-text_28');operate findNextVideo(currentVideoId) var i,vidObj;if (currentVideoId && jQuery.isArray(currentVideoCollection) && currentVideoCollection.size > zero) callbackObj = {onPlayerReady: operate (containerId) {var playerInstance,containerClassId = '#' + containerId;CNN.VideoPlayer.handleInitialExpandableVideoState(containerId);CNN.VideoPlayer.handleAdOnCVPVisibilityChange(containerId, CNN.pageVis.isDocumentVisible());if (CNN.Options.enableMobileWebFloatingPlayer &&Modernizr &&(Modernizr.cellphone || Modernizr.cell || Modernizr.pill) &&CNN.VideoPlayer.getLibraryName(containerId) === 'fave' &&jQuery(containerClassId).mother and father('.js-pg-rail-tall__head').size > zero &&CNN.contentModel.pageType === 'article') ;CNN.Videx.cell.pinnedPlayer = mobilePinnedView;if (Modernizr && !Modernizr.cellphone && !Modernizr.cell && !Modernizr.pill) },onContentEntryLoad: operate(containerId, playerId, contentid, isQueue) ,onContentPause: operate (containerId, playerId, videoId, paused) ,onContentMetadata: operate (containerId, playerId, metadata, contentId, length, width, peak) var endSlateLen = jQuery(doc.getElementById(containerId)).mum or dad().discover('.js-video__end-slate').eq(zero).size;CNN.VideoSourceUtils.updateSource(containerId, metadata);if (endSlateLen > zero) videoEndSlateImpl.fetchAndShowRecommendedVideos(metadata);,onAdPlay: operate (containerId, cvpId, token, mode, id, length, blockId, adType) ,onAdPause: operate (containerId, playerId, token, mode, id, length, blockId, adType, occasion, isAdPause) if (mobilePinnedView) CNN.VideoPlayer.handleMobilePinnedPlayerStates(containerId, isAdPause);,onTrackingFullscreen: operate (containerId, PlayerId, dataObj) CNN.VideoPlayer.handleFullscreenChange(containerId, dataObj);if (mobilePinnedView &&typeof dataObj === 'object' &&FAVE.Utils.os === 'iOS' && !dataObj.fullscreen) jQuery(doc).scrollTop(mobilePinnedView.getScrollPosition());playerInstance.hideUI();,onContentPlay: operate (containerId, cvpId, occasion) ,onContentReplayRequest: operate (containerId, cvpId, contentId) ,onContentBegin: operate (containerId, cvpId, contentId) if (mobilePinnedView) /* Dismissing the pinnedPlayer if one other video gamers performs a video. */CNN.VideoPlayer.dismissMobilePinnedPlayer(containerId);CNN.VideoPlayer.mutePlayer(containerId);if (CNN.companion && typeof CNN.companion.updateCompanionLayout === 'operate') CNN.companion.updateCompanionLayout('removeEpicAds');CNN.VideoPlayer.hideSpinner(containerId);clearTimeout(moveToNextTimeout);CNN.VideoSourceUtils.clearSource(containerId);jQuery(doc).triggerVideoContentStarted();,onContentComplete: operate (containerId, cvpId, contentId) if (CNN.companion && typeof CNN.companion.updateCompanionLayout === 'operate') navigateToNextVideo(contentId, containerId);,onContentEnd: operate (containerId, cvpId, contentId) ,onCVPVisibilityChange: operate (containerId, cvpId, seen) };if (typeof configObj.context !== 'string' || configObj.context.size zero) CNN.autoPlayVideoExist = (CNN.autoPlayVideoExist === true) ? true : false;CNN.VideoPlayer.getLibrary(configObj, callbackObj, isLivePlayer);});CNN.INJECTOR.scriptComplete('videodemanddust');
BREAKFAST BROWSE
Bye, 'Huge Bang'
The top creeps nearer for "The Huge Bang Idea," which taped its ultimate episode this week.');$vidEndSlate.removeClass('video__end-slate–inactive').addClass('video__end-slate–active');}};CNN.autoPlayVideoExist = (CNN.autoPlayVideoExist === true) ? true : false;var configObj = ,autoStartVideo = false,isVideoReplayClicked = false,callbackObj,containerEl,currentVideoCollection = [],currentVideoCollectionId = ",isLivePlayer = false,mediaMetadataCallbacks,mobilePinnedView = null,moveToNextTimeout,mutePlayerEnabled = false,nextVideoId = ",nextVideoUrl = ",turnOnFlashMessaging = false,videoPinner,videoEndSlateImpl;if (CNN.autoPlayVideoExist === false) autoStartVideo = false;if (autoStartVideo === true) if (turnOnFlashMessaging === true) else configObj.autostart = CNN.Options.enableAutoplayBlock ? false : autoStartVideo;CNN.VideoPlayer.setPlayerProperties(configObj.markupId, autoStartVideo, isLivePlayer, isVideoReplayClicked, mutePlayerEnabled);CNN.VideoPlayer.setFirstVideoInCollection(currentVideoCollection, configObj.markupId);videoEndSlateImpl = new CNN.VideoEndSlate('body-text_33');operate findNextVideo(currentVideoId) var i,vidObj;if (currentVideoId && jQuery.isArray(currentVideoCollection) && currentVideoCollection.size > zero) callbackObj = {onPlayerReady: operate (containerId) {var playerInstance,containerClassId = '#' + containerId;CNN.VideoPlayer.handleInitialExpandableVideoState(containerId);CNN.VideoPlayer.handleAdOnCVPVisibilityChange(containerId, CNN.pageVis.isDocumentVisible());if (CNN.Options.enableMobileWebFloatingPlayer &&Modernizr &&(Modernizr.cellphone || Modernizr.cell || Modernizr.pill) &&CNN.VideoPlayer.getLibraryName(containerId) === 'fave' &&jQuery(containerClassId).mother and father('.js-pg-rail-tall__head').size > zero &&CNN.contentModel.pageType === 'article') ;CNN.Videx.cell.pinnedPlayer = mobilePinnedView;if (Modernizr && !Modernizr.cellphone && !Modernizr.cell && !Modernizr.pill) },onContentEntryLoad: operate(containerId, playerId, contentid, isQueue) ,onContentPause: operate (containerId, playerId, videoId, paused) ,onContentMetadata: operate (containerId, playerId, metadata, contentId, length, width, peak) var endSlateLen = jQuery(doc.getElementById(containerId)).mum or dad().discover('.js-video__end-slate').eq(zero).size;CNN.VideoSourceUtils.updateSource(containerId, metadata);if (endSlateLen > zero) videoEndSlateImpl.fetchAndShowRecommendedVideos(metadata);,onAdPlay: operate (containerId, cvpId, token, mode, id, length, blockId, adType) ,onAdPause: operate (containerId, playerId, token, mode, id, length, blockId, adType, occasion, isAdPause) if (mobilePinnedView) CNN.VideoPlayer.handleMobilePinnedPlayerStates(containerId, isAdPause);,onTrackingFullscreen: operate (containerId, PlayerId, dataObj) CNN.VideoPlayer.handleFullscreenChange(containerId, dataObj);if (mobilePinnedView &&typeof dataObj === 'object' &&FAVE.Utils.os === 'iOS' && !dataObj.fullscreen) jQuery(doc).scrollTop(mobilePinnedView.getScrollPosition());playerInstance.hideUI();,onContentPlay: operate (containerId, cvpId, occasion) ,onContentReplayRequest: operate (containerId, cvpId, contentId) ,onContentBegin: operate (containerId, cvpId, contentId) if (mobilePinnedView) /* Dismissing the pinnedPlayer if one other video gamers performs a video. */CNN.VideoPlayer.dismissMobilePinnedPlayer(containerId);CNN.VideoPlayer.mutePlayer(containerId);if (CNN.companion && typeof CNN.companion.updateCompanionLayout === 'operate') CNN.companion.updateCompanionLayout('removeEpicAds');CNN.VideoPlayer.hideSpinner(containerId);clearTimeout(moveToNextTimeout);CNN.VideoSourceUtils.clearSource(containerId);jQuery(doc).triggerVideoContentStarted();,onContentComplete: operate (containerId, cvpId, contentId) if (CNN.companion && typeof CNN.companion.updateCompanionLayout === 'operate') navigateToNextVideo(contentId, containerId);,onContentEnd: operate (containerId, cvpId, contentId) ,onCVPVisibilityChange: operate (containerId, cvpId, seen) };if (typeof configObj.context !== 'string' || configObj.context.size zero) CNN.autoPlayVideoExist = (CNN.autoPlayVideoExist === true) ? true : false;CNN.VideoPlayer.getLibrary(configObj, callbackObj, isLivePlayer);});CNN.INJECTOR.scriptComplete('videodemanddust');
Beneficiant gesture
A hospice affected person's final want was to look at the Battle of Winterfell. However "Sport of Thrones" forged members did even higher than that.
Accent piece?
The makers of Crocs are proudly owning as much as the footwear' "ugly" rep by including tiny fanny packs — sure, fanny packs — to the heel.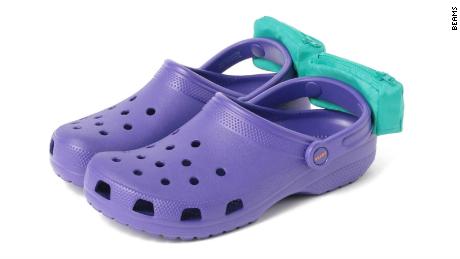 Too shut for consolation
Mark your calendars. An enormous asteroid — named for the god of dying — will whiz by Earth in 2029. However don't be concerned, it will miss us by about 19,000 miles.
The grasp died 500 years in the past at present
Leonardo da Vinci packed in loads throughout his 67 years. Ever surprise what he was as much as when he was your age? Nicely, surprise no extra.
TODAY'S NUMBERS
$30 million
That is how a lot Salesforce billionaire Marc Benioff and his spouse, Lynne, are donating to analysis homelessness.');$vidEndSlate.removeClass('video__end-slate–inactive').addClass('video__end-slate–active');}};CNN.autoPlayVideoExist = (CNN.autoPlayVideoExist === true) ? true : false;var configObj = thumb: 'none',video: 'enterprise/2018/11/01/marc-benioff-prop-c-homelessness.cnn-business',width: '100%',peak: '100%',part: 'home',profile: 'growth',community: 'cnn',markupId: 'body-text_52',theoplayer: allowNativeFullscreen: true,adsection: 'cnn.com_us_5thingstoknow_inpage',frameWidth: '100%',frameHeight: '100%',posterImageOverride: "mini":,"xsmall":"width":307,"sort":"jpg","uri":"//cdn.cnn.com/cnnnext/dam/property/181003102639-marc-benioff-medium-plus-169.jpg","peak":173,"small":"width":460,"sort":"jpg","uri":"//cdn.cnn.com/cnnnext/dam/property/181003102639-marc-benioff-large-169.jpg","peak":259,"medium":"width":780,"sort":"jpg","uri":"//cdn.cnn.com/cnnnext/dam/property/181003102639-marc-benioff-exlarge-169.jpg","peak":438,"giant":"width":1100,"sort":"jpg","uri":"//cdn.cnn.com/cnnnext/dam/property/181003102639-marc-benioff-super-169.jpg","peak":619,"full16x9″:"width":1600,"sort":"jpg","uri":"//cdn.cnn.com/cnnnext/dam/property/181003102639-marc-benioff-full-169.jpg","peak":900,"mini1x1″:"width":120,"sort":"jpg","uri":"//cdn.cnn.com/cnnnext/dam/property/181003102639-marc-benioff-small-11.jpg","peak":120,autoStartVideo = false,isVideoReplayClicked = false,callbackObj,containerEl,currentVideoCollection = [],currentVideoCollectionId = ",isLivePlayer = false,mediaMetadataCallbacks,mobilePinnedView = null,moveToNextTimeout,mutePlayerEnabled = false,nextVideoId = ",nextVideoUrl = ",turnOnFlashMessaging = false,videoPinner,videoEndSlateImpl;if (CNN.autoPlayVideoExist === false) autoStartVideo = false;if (autoStartVideo === true) if (turnOnFlashMessaging === true) else configObj.autostart = CNN.Options.enableAutoplayBlock ? false : autoStartVideo;CNN.VideoPlayer.setPlayerProperties(configObj.markupId, autoStartVideo, isLivePlayer, isVideoReplayClicked, mutePlayerEnabled);CNN.VideoPlayer.setFirstVideoInCollection(currentVideoCollection, configObj.markupId);videoEndSlateImpl = new CNN.VideoEndSlate('body-text_52');operate findNextVideo(currentVideoId) var i,vidObj;if (currentVideoId && jQuery.isArray(currentVideoCollection) && currentVideoCollection.size > zero) callbackObj = {onPlayerReady: operate (containerId) {var playerInstance,containerClassId = '#' + containerId;CNN.VideoPlayer.handleInitialExpandableVideoState(containerId);CNN.VideoPlayer.handleAdOnCVPVisibilityChange(containerId, CNN.pageVis.isDocumentVisible());if (CNN.Options.enableMobileWebFloatingPlayer &&Modernizr &&(Modernizr.cellphone || Modernizr.cell || Modernizr.pill) &&CNN.VideoPlayer.getLibraryName(containerId) === 'fave' &&jQuery(containerClassId).mother and father('.js-pg-rail-tall__head').size > zero &&CNN.contentModel.pageType === 'article') ;CNN.Videx.cell.pinnedPlayer = mobilePinnedView;if (Modernizr && !Modernizr.cellphone && !Modernizr.cell && !Modernizr.pill) },onContentEntryLoad: operate(containerId, playerId, contentid, isQueue) ,onContentPause: operate (containerId, playerId, videoId, paused) ,onContentMetadata: operate (containerId, playerId, metadata, contentId, length, width, peak) var endSlateLen = jQuery(doc.getElementById(containerId)).mum or dad().discover('.js-video__end-slate').eq(zero).size;CNN.VideoSourceUtils.updateSource(containerId, metadata);if (endSlateLen > zero) videoEndSlateImpl.fetchAndShowRecommendedVideos(metadata);,onAdPlay: operate (containerId, cvpId, token, mode, id, length, blockId, adType) ,onAdPause: operate (containerId, playerId, token, mode, id, length, blockId, adType, occasion, isAdPause) if (mobilePinnedView) CNN.VideoPlayer.handleMobilePinnedPlayerStates(containerId, isAdPause);,onTrackingFullscreen: operate (containerId, PlayerId, dataObj) CNN.VideoPlayer.handleFullscreenChange(containerId, dataObj);if (mobilePinnedView &&typeof dataObj === 'object' &&FAVE.Utils.os === 'iOS' && !dataObj.fullscreen) jQuery(doc).scrollTop(mobilePinnedView.getScrollPosition());playerInstance.hideUI();,onContentPlay: operate (containerId, cvpId, occasion) ,onContentReplayRequest: operate (containerId, cvpId, contentId) ,onContentBegin: operate (containerId, cvpId, contentId) if (mobilePinnedView) /* Dismissing the pinnedPlayer if one other video gamers performs a video. */CNN.VideoPlayer.dismissMobilePinnedPlayer(containerId);CNN.VideoPlayer.mutePlayer(containerId);if (CNN.companion && typeof CNN.companion.updateCompanionLayout === 'operate') CNN.companion.updateCompanionLayout('removeEpicAds');CNN.VideoPlayer.hideSpinner(containerId);clearTimeout(moveToNextTimeout);CNN.VideoSourceUtils.clearSource(containerId);jQuery(doc).triggerVideoContentStarted();,onContentComplete: operate (containerId, cvpId, contentId) if (CNN.companion && typeof CNN.companion.updateCompanionLayout === 'operate') navigateToNextVideo(contentId, containerId);,onContentEnd: operate (containerId, cvpId, contentId) ,onCVPVisibilityChange: operate (containerId, cvpId, seen) };if (typeof configObj.context !== 'string' || configObj.context.size zero) CNN.autoPlayVideoExist = (CNN.autoPlayVideoExist === true) ? true : false;CNN.VideoPlayer.getLibrary(configObj, callbackObj, isLivePlayer);});CNN.INJECTOR.scriptComplete('videodemanddust');
20
The variety of wins to date for James Holzhauer on "Jeopardy!"');$vidEndSlate.removeClass('video__end-slate–inactive').addClass('video__end-slate–active');}};CNN.autoPlayVideoExist = (CNN.autoPlayVideoExist === true) ? true : false;var configObj = ,autoStartVideo = false,isVideoReplayClicked = false,callbackObj,containerEl,currentVideoCollection = [],currentVideoCollectionId = ",isLivePlayer = false,mediaMetadataCallbacks,mobilePinnedView = null,moveToNextTimeout,mutePlayerEnabled = false,nextVideoId = ",nextVideoUrl = ",turnOnFlashMessaging = false,videoPinner,videoEndSlateImpl;if (CNN.autoPlayVideoExist === false) autoStartVideo = false;if (autoStartVideo === true) if (turnOnFlashMessaging === true) else configObj.autostart = CNN.Options.enableAutoplayBlock ? false : autoStartVideo;CNN.VideoPlayer.setPlayerProperties(configObj.markupId, autoStartVideo, isLivePlayer, isVideoReplayClicked, mutePlayerEnabled);CNN.VideoPlayer.setFirstVideoInCollection(currentVideoCollection, configObj.markupId);videoEndSlateImpl = new CNN.VideoEndSlate('body-text_56');operate findNextVideo(currentVideoId) var i,vidObj;if (currentVideoId && jQuery.isArray(currentVideoCollection) && currentVideoCollection.size > zero) callbackObj = {onPlayerReady: operate (containerId) {var playerInstance,containerClassId = '#' + containerId;CNN.VideoPlayer.handleInitialExpandableVideoState(containerId);CNN.VideoPlayer.handleAdOnCVPVisibilityChange(containerId, CNN.pageVis.isDocumentVisible());if (CNN.Options.enableMobileWebFloatingPlayer &&Modernizr &&(Modernizr.cellphone || Modernizr.cell || Modernizr.pill) &&CNN.VideoPlayer.getLibraryName(containerId) === 'fave' &&jQuery(containerClassId).mother and father('.js-pg-rail-tall__head').size > zero &&CNN.contentModel.pageType === 'article') ;CNN.Videx.cell.pinnedPlayer = mobilePinnedView;if (Modernizr && !Modernizr.cellphone && !Modernizr.cell && !Modernizr.pill) },onContentEntryLoad: operate(containerId, playerId, contentid, isQueue) ,onContentPause: operate (containerId, playerId, videoId, paused) ,onContentMetadata: operate (containerId, playerId, metadata, contentId, length, width, peak) var endSlateLen = jQuery(doc.getElementById(containerId)).mum or dad().discover('.js-video__end-slate').eq(zero).size;CNN.VideoSourceUtils.updateSource(containerId, metadata);if (endSlateLen > zero) videoEndSlateImpl.fetchAndShowRecommendedVideos(metadata);,onAdPlay: operate (containerId, cvpId, token, mode, id, length, blockId, adType) ,onAdPause: operate (containerId, playerId, token, mode, id, length, blockId, adType, occasion, isAdPause) if (mobilePinnedView) CNN.VideoPlayer.handleMobilePinnedPlayerStates(containerId, isAdPause);,onTrackingFullscreen: operate (containerId, PlayerId, dataObj) CNN.VideoPlayer.handleFullscreenChange(containerId, dataObj);if (mobilePinnedView &&typeof dataObj === 'object' &&FAVE.Utils.os === 'iOS' && !dataObj.fullscreen) jQuery(doc).scrollTop(mobilePinnedView.getScrollPosition());playerInstance.hideUI();,onContentPlay: operate (containerId, cvpId, occasion) ,onContentReplayRequest: operate (containerId, cvpId, contentId) ,onContentBegin: operate (containerId, cvpId, contentId) if (mobilePinnedView) /* Dismissing the pinnedPlayer if one other video gamers performs a video. */CNN.VideoPlayer.dismissMobilePinnedPlayer(containerId);CNN.VideoPlayer.mutePlayer(containerId);if (CNN.companion && typeof CNN.companion.updateCompanionLayout === 'operate') CNN.companion.updateCompanionLayout('removeEpicAds');CNN.VideoPlayer.hideSpinner(containerId);clearTimeout(moveToNextTimeout);CNN.VideoSourceUtils.clearSource(containerId);jQuery(doc).triggerVideoContentStarted();,onContentComplete: operate (containerId, cvpId, contentId) if (CNN.companion && typeof CNN.companion.updateCompanionLayout === 'operate') navigateToNextVideo(contentId, containerId);,onContentEnd: operate (containerId, cvpId, contentId) ,onCVPVisibilityChange: operate (containerId, cvpId, seen) };if (typeof configObj.context !== 'string' || configObj.context.size zero) CNN.autoPlayVideoExist = (CNN.autoPlayVideoExist === true) ? true : false;CNN.VideoPlayer.getLibrary(configObj, callbackObj, isLivePlayer);});CNN.INJECTOR.scriptComplete('videodemanddust');
TODAY'S WEATHER
');$vidEndSlate.removeClass('video__end-slate–inactive').addClass('video__end-slate–active');}};CNN.autoPlayVideoExist = (CNN.autoPlayVideoExist === true) ? true : false;var configObj = ,autoStartVideo = false,isVideoReplayClicked = false,callbackObj,containerEl,currentVideoCollection = [],currentVideoCollectionId = ",isLivePlayer = false,mediaMetadataCallbacks,mobilePinnedView = null,moveToNextTimeout,mutePlayerEnabled = false,nextVideoId = ",nextVideoUrl = ",turnOnFlashMessaging = false,videoPinner,videoEndSlateImpl;if (CNN.autoPlayVideoExist === false) autoStartVideo = false;if (autoStartVideo === true) if (turnOnFlashMessaging === true) else configObj.autostart = CNN.Options.enableAutoplayBlock ? false : autoStartVideo;CNN.VideoPlayer.setPlayerProperties(configObj.markupId, autoStartVideo, isLivePlayer, isVideoReplayClicked, mutePlayerEnabled);CNN.VideoPlayer.setFirstVideoInCollection(currentVideoCollection, configObj.markupId);videoEndSlateImpl = new CNN.VideoEndSlate('body-text_59');operate findNextVideo(currentVideoId) var i,vidObj;if (currentVideoId && jQuery.isArray(currentVideoCollection) && currentVideoCollection.size > zero) callbackObj = {onPlayerReady: operate (containerId) {var playerInstance,containerClassId = '#' + containerId;CNN.VideoPlayer.handleInitialExpandableVideoState(containerId);CNN.VideoPlayer.handleAdOnCVPVisibilityChange(containerId, CNN.pageVis.isDocumentVisible());if (CNN.Options.enableMobileWebFloatingPlayer &&Modernizr &&(Modernizr.cellphone || Modernizr.cell || Modernizr.pill) &&CNN.VideoPlayer.getLibraryName(containerId) === 'fave' &&jQuery(containerClassId).mother and father('.js-pg-rail-tall__head').size > zero &&CNN.contentModel.pageType === 'article') ;CNN.Videx.cell.pinnedPlayer = mobilePinnedView;if (Modernizr && !Modernizr.cellphone && !Modernizr.cell && !Modernizr.pill) },onContentEntryLoad: operate(containerId, playerId, contentid, isQueue) ,onContentPause: operate (containerId, playerId, videoId, paused) ,onContentMetadata: operate (containerId, playerId, metadata, contentId, length, width, peak) var endSlateLen = jQuery(doc.getElementById(containerId)).mum or dad().discover('.js-video__end-slate').eq(zero).size;CNN.VideoSourceUtils.updateSource(containerId, metadata);if (endSlateLen > zero) videoEndSlateImpl.fetchAndShowRecommendedVideos(metadata);,onAdPlay: operate (containerId, cvpId, token, mode, id, length, blockId, adType) ,onAdPause: operate (containerId, playerId, token, mode, id, length, blockId, adType, occasion, isAdPause) if (mobilePinnedView) CNN.VideoPlayer.handleMobilePinnedPlayerStates(containerId, isAdPause);,onTrackingFullscreen: operate (containerId, PlayerId, dataObj) CNN.VideoPlayer.handleFullscreenChange(containerId, dataObj);if (mobilePinnedView &&typeof dataObj === 'object' &&FAVE.Utils.os === 'iOS' && !dataObj.fullscreen) jQuery(doc).scrollTop(mobilePinnedView.getScrollPosition());playerInstance.hideUI();,onContentPlay: operate (containerId, cvpId, occasion) ,onContentReplayRequest: operate (containerId, cvpId, contentId) ,onContentBegin: operate (containerId, cvpId, contentId) if (mobilePinnedView) /* Dismissing the pinnedPlayer if one other video gamers performs a video. */CNN.VideoPlayer.dismissMobilePinnedPlayer(containerId);CNN.VideoPlayer.mutePlayer(containerId);if (CNN.companion && typeof CNN.companion.updateCompanionLayout === 'operate') CNN.companion.updateCompanionLayout('removeEpicAds');CNN.VideoPlayer.hideSpinner(containerId);clearTimeout(moveToNextTimeout);CNN.VideoSourceUtils.clearSource(containerId);jQuery(doc).triggerVideoContentStarted();,onContentComplete: operate (containerId, cvpId, contentId) if (CNN.companion && typeof CNN.companion.updateCompanionLayout === 'operate') navigateToNextVideo(contentId, containerId);,onContentEnd: operate (containerId, cvpId, contentId) ,onCVPVisibilityChange: operate (containerId, cvpId, seen) };if (typeof configObj.context !== 'string' || configObj.context.size zero) CNN.autoPlayVideoExist = (CNN.autoPlayVideoExist === true) ? true : false;CNN.VideoPlayer.getLibrary(configObj, callbackObj, isLivePlayer);});CNN.INJECTOR.scriptComplete('videodemanddust');
AND FINALLY
Visitors jam
Assume you are escaping all of the hustle and bustle while you escape to Jackson Gap, Wyoming? These mountain goats will change your thoughts about that. (Click on to view.)